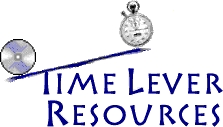 ---
Time Lever Resources provides high-quality, custom data management solutions to businesses and organizations ranging in size from sole proprietorships to Fortune 500 corporations. Our consultants work closely with you to fulfill your business process and work flow requirements, using best of class tools such as FileMaker Pro, Revolution, RealBasic, Visual Basic .Net, SuperCard, AppleScript, and more. Custom software offers best practices implementation, cost benefits, and technology advantage.

Since 1991 TLR has completed dozens of projects encompassing cross-platform database design and programming, application prototyping, simulations, web site development, network design and installation, data conversion among computing platforms, training, and technical support. Our experience spans many industries, including travel, healthcare, graphics arts production, construction, printing and publishing, real estate, retail, manufacturing and education.

We are committed to our quality of work, our clients' long term goals, and most of all, our relationships with our clients.

Time Lever Resources is a proud member of the FileMaker Solutions Alliance.




[ How To Contact Us | About TLR | Links ]
---
Product names referred to on this website are trademarks or registered trademarks of their respective owners. Use of these names does not imply any endorsement of, or affiliation with this website.

Communications, comments and suggestions: webmaster@timelever.com


Last Updated 06/20/03